SCALABLE was in Hamburg recently to attend the ISC High-Performance 2023 Conference. For this 2023 edition, the event again brought together leading experts, researchers, and industry professionals worldwide to exchange knowledge and showcase cutting-edge advancements in the field. SCALABLE's participation in the conference was marked by a poster presentation and the invaluable support of its consortium partners who showcased contributions through their own booths, highlighting the project's collaborative spirit.
The SCALABLE team shared its latest findings, research insights, and breakthroughs achieved during the project through the poster presentation which provided a platform for experts and attendees to delve deeper into the intricacies of SCALABLE's goals, methodologies, and anticipated outcomes, but also fostered meaningful discussions and collaborations with peers, encouraging the exchange of ideas and expertise that are vital for advancing the HPC field.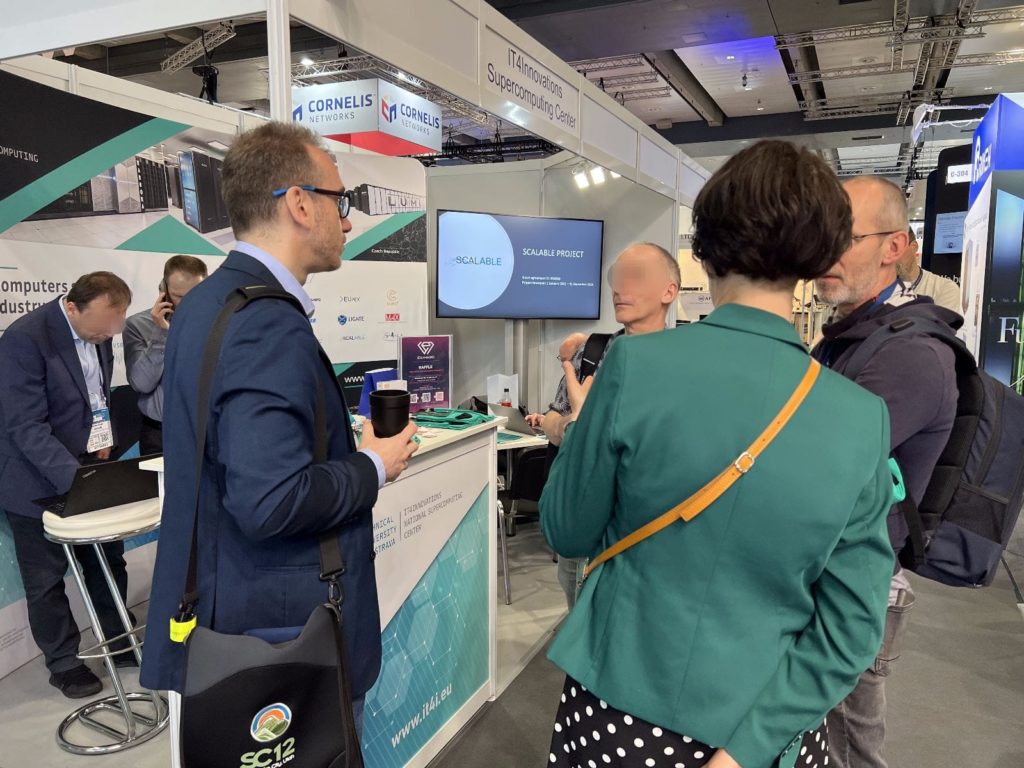 A significant aspect of SCALABLE's participation at the conference was the presence of its consortium partners. The booths of IT4Innovations National Supercomputing Centre and Jülich Supercomputing Centre displayed the content developed by SCALABLE -alongside their other ongoing initiatives and projects-, showcasing the progress made within the project, reinforcing the collaborative efforts undertaken to drive HPC and CFD technologies forward, and providing a spot for more informal discussions between experts and attendees.
SCALABLE's attendance at ISC23 was a resounding success, marked by an engaging poster session and the active collaboration of consortium partners, as the project moves into its final phase before its end scheduled for December 2023.